Everything You Need To Know About Wedding Dress Sample Sales & Our Upcoming Event
A wedding dress sample sale presents a rare opportunity for brides-to-be to make a significant saving on a designer gown, though preparation is key for bridal bargain success. To help navigate such events, our Founder & Head Stylist, Hayley Hoyle, answers commonly asked sample sale questions and shares her top sale shopping tips!
Since starting your wedding dress search, you may have heard the term 'sample sale' but not understand what these events actually entail and why they occur. So, in this post, I'm answering those exact questions to help you assess if a wedding dress sample sale is for you and, if so, how to best prepare to secure a dream dress at a dream price!
Furthermore, I'm sharing details of the Super Sample Sale that we have coming up at The Harrogate Wedding Lounge between Friday 14th and Sunday 16th July. As our biggest-ever bridal sample sale to date, this will give you brides-to-be a chance to snap up one of our premium designer dresses for a fraction of its original price.
Sound tempting? Then be sure to keep scrolling to the end of this post, where I'll give you all the details and spotlight some of the incredible gowns that are heading for the sale rail! Oh, and as these bridal bargains will be sold on a first-come, first-served basis, you'll also want to secure your sample sale appointment ASAP.
What Is A Wedding Dress Sample Sale?
​
A wedding dress sample sale is an event during which bridal boutiques discount a selection of their dresses for direct, off-the-peg purchases. This means saying "yes" to the dress, buying and taking it away with you on the very same day.
Boutiques hold such sales simply to make way for new collections arriving, with most bridal designers releasing one or two new dress lines every year.
The vast majority of the sale dresses will be ex-sample gowns that brides-to-be have tried on during their search. As such, the condition of the sample dresses will vary from 'like-new' to 'well-loved'. The sale might also include dresses that have been discontinued by designers and therefore are no longer available to order.
All gowns will be priced to reflect their age and condition, with savings ranging up to 70% off the original price tag, meaning there are some truly epic discounts for the taking!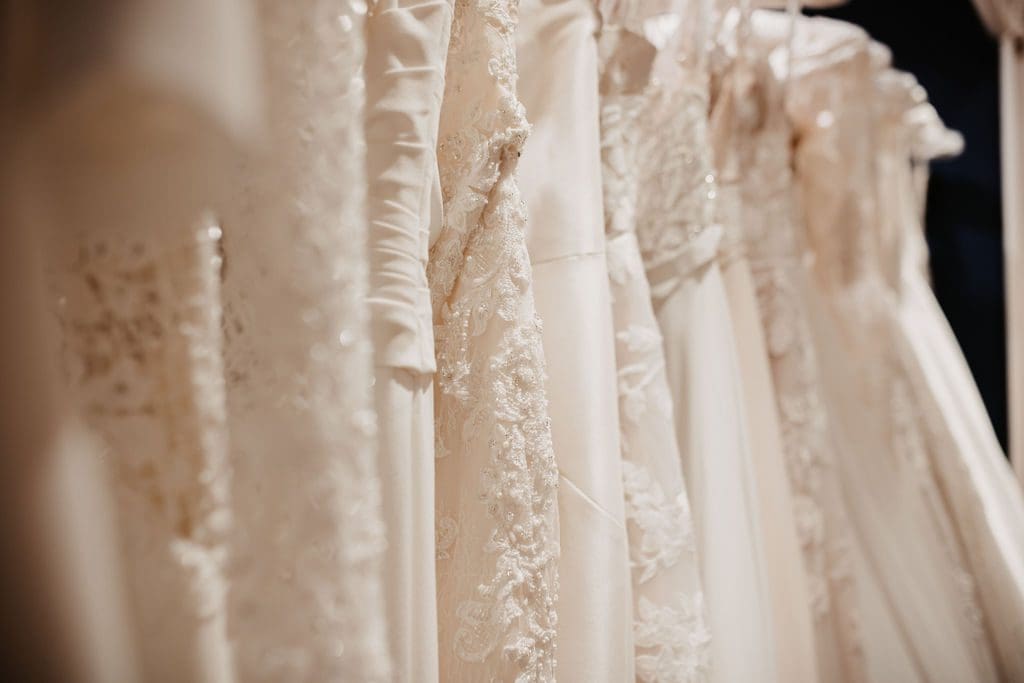 What Sizes Are Sample Wedding Dresses?
​
This will vary at different boutiques, so always check the details of a sample sale before booking. Here at The Harrogate Wedding Lounge, our sample sizes are between a UK 8 and UK 18, but most of our upcoming sample sale dresses are between a UK 10 and UK 16.
Bear in mind that bridal sample sizes typically run small (around one size smaller than the high street), so if you usually wear a UK size 8, you may find you fit a size 10 bridal gown. More importantly, sample dresses can generally be altered up to two sizes down or one size up, depending on the style, with the boutique team often able to advise you on what's possible.
Who Are Bridal Sample Sales Best Suited To?
There are several reasons why a bridal sample sale might be particularly well-suited to your circumstances, such as:
You've tried on a number of wedding dresses already, have a good idea of what suits/appeals and would feel confident to commit to a dress on the day of the sale.

You're on a tight wedding dress-shopping deadline with your big day just months away.
You've fallen head over heels in love with a particular designer, but their gowns are out of your price range.
You want a second wedding dress to wow your guests on the day.
You have a more modest dress-shopping budget…or just love a good bargain!
Wedding Dress Sale Shopping Tips
As sample sales are quick-paced events with appointments often in high demand, we always advise going along prepared so that you get the most from your appointment and stand the best chance of finding your dream dress at a fantastic price.
Here are some of my top tips for bridal sample sale success:
Research – Make sure you've tried on some wedding dresses prior to your appointment to help narrow your search on the day of the sale.
Prep – Look up or enquire with the boutique what size range the sample sale dresses will be, the designers included and whether they're sharing further details of any of the dresses ahead of the event.
Secure – If the sample sale sounds like it's for you, get booked in ASAP so you're more likely to have a greater choice of sale dresses and/or bag the one you've set your heart on.
Undergarments – Nude, seamless underwear is always best for bridal gown try-ons, and if you have a fuller bust, a strapless bra can also be handy.
Companions – Sample sales tend to be extremely busy, and space may be limited, so we suggest only taking a maximum of two (trusted!) guests to your appointment.
Commit – There's often only one of each sample dress up for grabs, so if you find one that fits your bridal vision, snap it up there and then, or run the risk of losing it!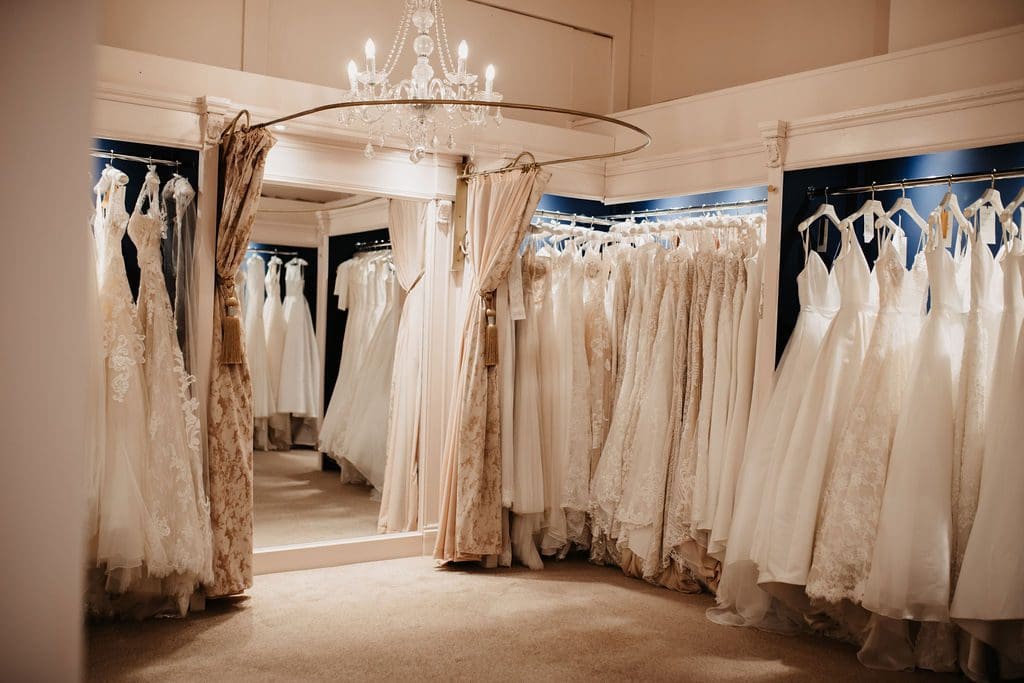 And so, that brings us to our upcoming event – our biggest-ever sample sale! Taking place at our North Yorkshire bridal boutique between Friday 14th and Sunday 16th July, this three-day extravaganza will feature a huge collection of discounted dresses that will blow your mind, not your budget!
The selection includes incredible gowns from top international and British bridalwear designers such as Maggie Sottero, Sottero and Midgley, Justin Alexander, Enzoani, Blue by Enzoani, Suzanne Neville, Jenny Packham, Caroline Castigliano, Sassi Holford and more!
The majority are between a UK size 10 and UK size 16, with some being new collection dresses in excellent condition and others having had more try-ons and showing some signs of wear.
Sample sale prices start from £495, ranging up to £1,995, with the original price of the dresses having been between £1,500 to £5,000, meaning there are serious savings to be made!
We've made the process slick and easy for those wanting in on our Super Sample Sale. Simply head to our booking page and select an appointment slot for the sale between 14th and 16th July.
Once secured, we'll send you our sample sale brochure featuring up to 80% of the amazing discounted gowns that will be on offer and ask you to preselect the styles (up to four dresses) you'd like to try on during your appointment.
Dresses will be sold on a first-come, first-served basis, and we can't hold dresses for you until your appointment. It's, therefore, possible that one, or more of your selected dresses, may have sold by your appointment, so book early to be in with the best chance of trying on your preselected gowns. If time allows, you can also select other sale dresses to try on.
Appointments are 75 minutes long and are charged at £15. During this time, you will have your very own bridal stylist from our team to help guide you in finding the perfect dress.
Wedding Dress Sale Spotlight
Here are a few of my very favourite dress sale picks to give you a taste of the dreamy discounted dresses you could be saying "I do" to.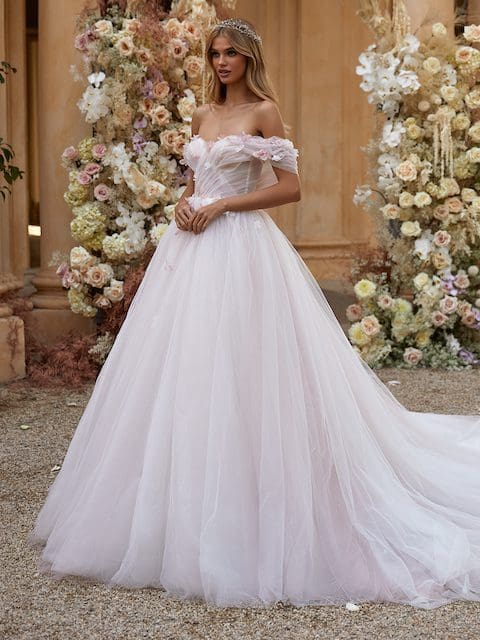 Vincenza by Mila Nova
Size: 10
Condition: Excellent
Was: £2995 Now: £1995
A show-stopping tulle ballgown with off-the-shoulder sleeves, draped bodice and dreamlike 3D floral detailing.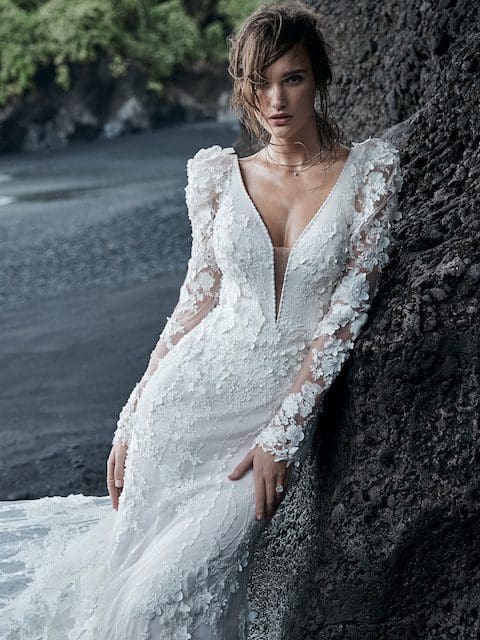 Cruz by Sottero and Midgley
Size: 12
Condition: Excellent
Was: £3,370 Now: £1,395
A breathtaking, soft mermaid-style gown with dreamy 3D floral detailing, plunging neckline, and deep-v back. Its full-length sleeves are detachable, giving two looks from just one dress.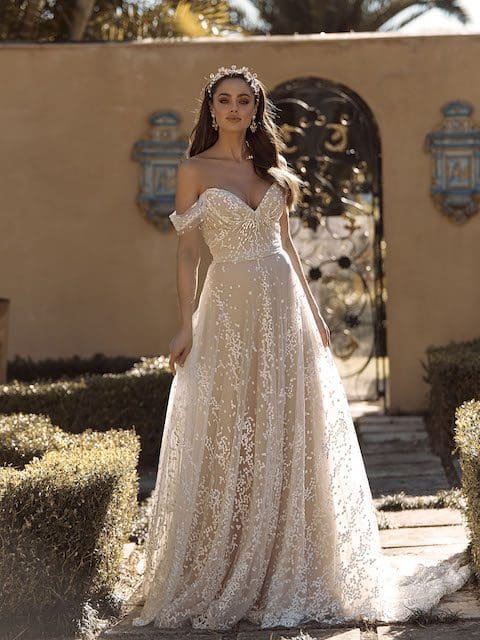 Bobbie by Madi Lane
Size: 12
Condition: Excellent
Was: £1,985 Now: £995
A super flattering A-line dress in soft nude with ivory, pleated flocked spot tulle overlay and romantic drop-shoulder sleeves.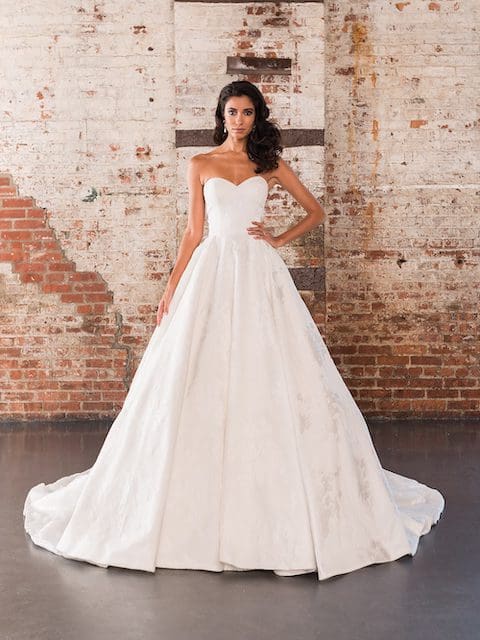 9858 by Justin Alexander
Size: 10
Condition: Good
Was: £1,995 Now: £695
A wonderfully chic organza ballgown with all-over lace appliques, sweetheart neckline and enchanting monarch-length train of dreams.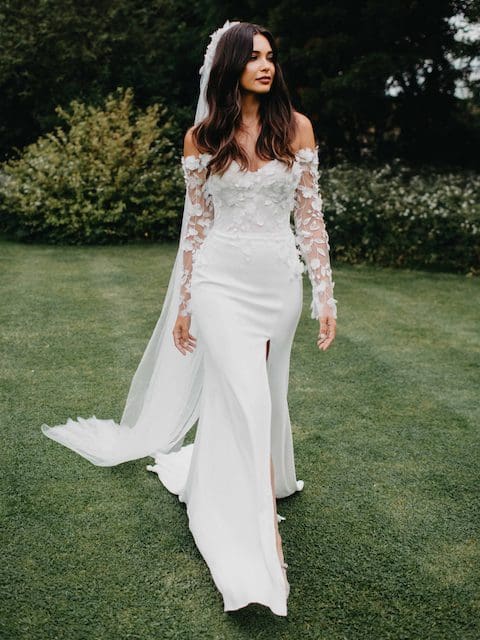 Eden by Suzanne Neville
Size: 14
Condition: Excellent
Was: £3,740 Now: £1,895
A beautifully ethereal fitted crepe gown with the most exquisite 3D floral appliques trailing across its bodice, over the hips and throughout its captivating full-length sleeves.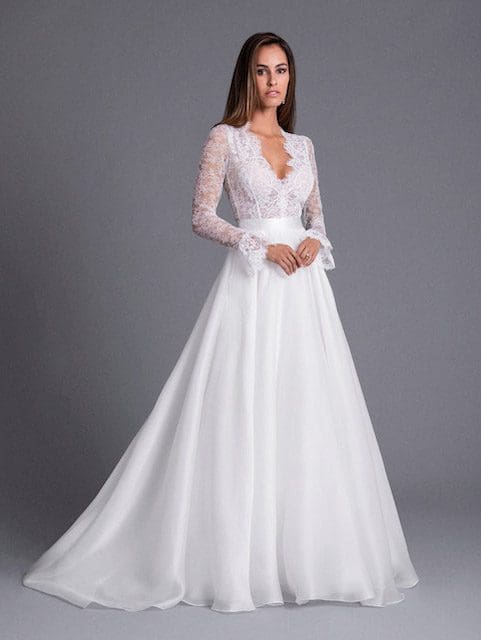 Kassie by Caroline Castigliano
Size: 14
Condition: Excellent
Was: £3,199 Now: £1,499
A gown of two alluring halves, its corded lace bodice and Chantilly sleeves fuse effortlessly with the soft tulle and sumptuous silk organza skirt for optimum elegance.

The Harrogate Wedding Lounge
38 Forest Lane Head,
Harrogate, North Yorkshire,
HG2 7TF

The Harrogate Wedding Lounge
38 Forest Lane Head,
Harrogate, North Yorkshire,
HG2 7TF